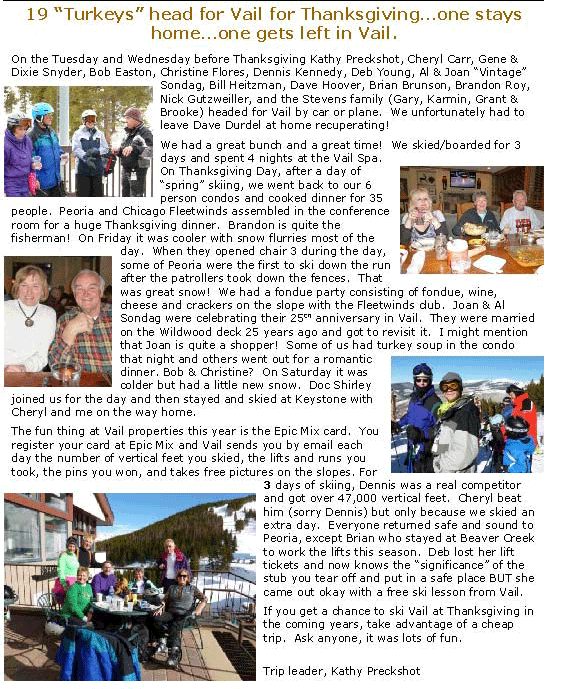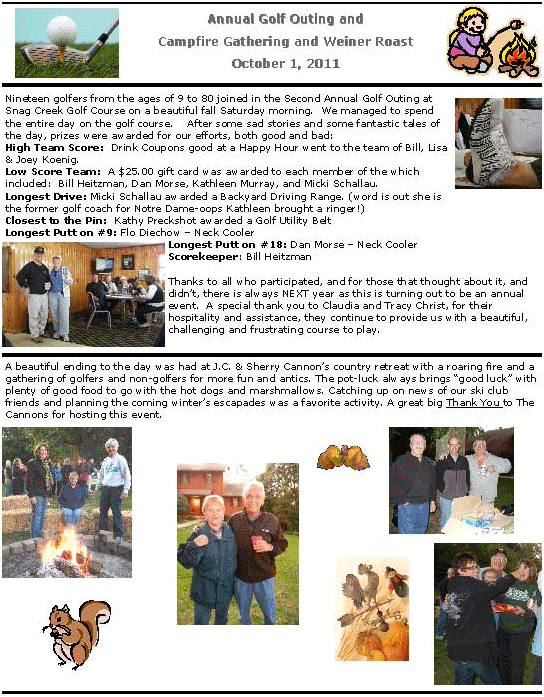 Vail/Beaver Creek
Here's reporting spring skiing was at its best in Beaver Creek, Colorado.

It was a pleasure to lead a group of 47 wonderful Peoria Ski Clubbers. We had a number of new members on the trip and some had never seen the mountains. What a thrill to bring that special view to those members! You couldn't ask for a nicer group, one big happy family! The group's ages ranged from 3 to almost 80. Everyone got along and I'm happy to say, there were no bad injuries, just a few collisions or mishaps here and there.

Most everyone enjoyed riding Amtrak with some playing cards and games, others just kicked back and relaxed in their seats. And before you know it, you're in Denver. Our Gray Line Bus was waiting for us at the temporary train station. We had a planned breakfast stop at Denny's. Then we started up the mountains and headed right into a blizzard on Sunday. Our heroic bus driver drove one of the only vehicles that made it through the Vail Pass before Highway 70 closed for a 40 mile stretch. Needless to say, that started our trip off to a magnificent week of skiing, snowboarding, and a whole lot of fun!

Most of us skied during the day. The Rocky Mountains are so beautiful! Beaver Creek Ski Resort prides itself with groomed corduroy slopes. They use a large convoy of snow cats that work to keep the mountain groomed. I had different events planned for several evenings and nearly everyone participated. We had a group dinner on Monday at the Dusty Boot. Tuesday, Vail Resorts hosted a welcome reception in our condo (postponed from Sunday due to the blizzard!).
They provided all the food and drink. Later, the night sky was filled with fireworks that could be seen from our balcony. On Wednesday, most of us bused to Vail to ski and/or sightsee. That evening we had a progressive soup party. Butch Peifer in my condo and Tara Cobble in the condo below us cooked up two delicious pots of soup that were enjoyed by several members. On Thursday we had an afternoon après ski party provided by Vail Resorts at the Coyote Café outside patio. Afterwards, a group of us went to Vail for a street reggae concert and music and dance at the Tavern on the Square at the Arrabelle. We returned to Beaver Creek by way of the Turtle Bar Bus. That was a wild experience! Friday evening a few of the gals went to the Performing Arts Theater to see a Stephen Stills and Graham Nash concert. A larger group of us went on a snow cat sleigh ride to Beano's Cabin for a gourmet dinner on the mountain. Our week ended with a bus ride down to Denver. On the way, the driver got off Highway 70 and took us for a scenic tour on Highway 6 through Clear Creek Canyon. Then, the group was turned loose for about 2 hours of fun in Denver before getting on the train to go to Galesburg. It was hard to believe we had been in the Rocky Mountains skiing or snowboarding when we got off the train in Galesburg and it was 85 degrees. That's HOT!!!

I really had a great time and I hope everyone else on the trip did too.

Millie Peifer/ Trip Leader
---
Devil's Head
It's sad to do the last local trip for the year, but we had a great time. The weather cooperated and gave us a little new snow to ski on. The hills were well groomed and everyone found a trail to satisfy their need for speed. The only mishap was Angie Tauscher who twisted her knee some when getting off a lift toward the end of the day. She wore her Ski Patrol Cardboard Splint with pride.

Richard Darling talked to her later that week and she was doing fine.
We had a lot of people go on this trip, 41 in all. So many that we rebated $15 per person for the reduced per person cost of the bus. We had such a big response we will probably plan other one day trips next year. We watched a movie on the way home and most of us snoozed. It was a long day, but a very rewarding one. Thanks to all for making the trip a big success.

Bob Stowe / Trip Leader
---
Just Had to Go to Lake Tahoe
Yea, we did it all, skied, competed, enjoyed happy hours (every night), laughed, dined and some even won at gambling. One hundred and one Ski Kouncil of Illinois members had a great week in Lake Tahoe.

Would you believe it! We arrived on Saturday afternoon and yes, yes, we got snow Saturday and most of Sunday. Although this was the end of any new snow, the weather was pretty much on our side with temperatures well into the 30's each day. Besides skiing Heavenly, we bused to Kirkwood on Monday and Northstar on Thursday.

For the first time, we put together a scavenger hunt (of sorts) on Heavenly Mountain. Teams of four competed in the "Heavenly Hunt" for prizes donated by Vail Resorts. All of the final scores were very close. In fact three teams tied for second place. The tie was broken by the team that was able to recall the ski quote of the day.

Now was the Embassy Suites sweet or what? If you didn't get enough of the complimentary breakfast, you could make up for it at the manager's reception in free beverages every evening from 4:30—6:30. This was a great opportunity for the skiers from all clubs to intermingle and get to know each other. Rod says he never spent so little on drinks and Julie Brown wants to find an Embassy Suites and then look for the ski resort!!
As in the past, our tour operator, Gloria from Ski.com, spent the week with us. She has become a regular participant on S.K.I. trips and we appreciate her attention to the details that make the trip run smoothly. Another shout out goes to Ashley and Jennifer from Heavenly Ski Resort. These gals helped set up the hunt, guided some skiers around the mountain, and provided assistance as needed throughout the week.

There were a couple of injuries during the week. Roy Welch broke his thumb and Linda Brown had a close encounter with some metal steps and took home 11 stitches in her arm. Fortunately, both are on the mend.

So where is S.K.I. skiing next year? To get you thinking, we are looking at Mammoth Mountain in California for 2012. Let's work together to make it another great S.K.I adventure. We are open to ideas so share your thoughts.

Dave Durdel
---
Indianhead Dec 30, 2010 - Jan 2, 2011
Well, another New Year's Ski Trip has come and gone and just like last year, Mother Nature was not kind to the Peoria Ski Club !! Rain on the drive up to the U.P. on Thursday (unheard of according to the locals). Whoever heard of rain at New Year's in Upper Michigan?

We had 7 cars driving up plus Bob Stowe driving the rental van carrying 8 skiers. (By the way ….just ask Bob about his new nickname he acquired during his van-driving experience). Dave Hoover drove up from Springfield and Jennifer Thomas drove in from Evanston, IL.

After everyone arrived Thursday evening, since we occupied all the rooms on the 2nd floor of the Lodge, we set up our "Arrival Party" in the hallway with sandwiches, shrimp cocktail, snacks, soda and champagne.

Friday, we all went to Blackjack. The snow (after all the rain Thurs.) was not great…. but skiable. Friday eve…New Year's Eve…most everyone stayed at the Lodge for dinner /some in the dining room…some in the bar, where a band played from 9 till ???. Some stayed to ring in the New Year, while others crashed shortly before. Temperatures dropped as fast Friday evening as the New Year's Eve Ball in New York's Times Square.

Saturday a.m. greeted us with -3 degree temps and 20-40 mph gusty winds. At breakfast, the topic of conversation was "to ski or not to ski??"
I guess Randy Senneff summed it up best "I didn't drive 500 miles to go bowling – let's go skiing" So we did!!! Indianhead Mtn. did a great job of getting the snow skiable given the conditions they had to work with. We would ski a couple of runs and come in to warm up. Then do it again. It was so cold Bill Heitzman had to put on a headband… "That's Cold". PSC members proved again they are "die hard skiers". Sat. night most of us went to the Caribou Lodge at Powderhorn Mtn for dinner where we met fellow PSC members Steve & Cheryl Carr, who live just down the road from Powderhorn and are on the National Ski Patrol at Powderhorn. After dinner, we all adjourned back to Indianhead Lodge to warm up by the roaring fireplace.

Dixie and I would like to thank the PSC members who made the trip: Bill Heitzman, Jon Gruebele, Dave & Julie Durdel, Barb Strand, Tim Seifried, Bob & Sherry Stowe, Rod & Janet Sleeth, Linda Brown, Karen Malmgren, Lee Ryerson, Mike Bohn, Randy Senneff, Dianna Anelli, Ken Kinsinger, Jennifer Thomas and Dave Hoover from Springfield. They all said they had a great weekend even if skiing was not stellar. I know we had a great time!!!

Gene and Dixie Snyder, Trip Leaders

Yes we did ski, but conditions were not ideal for outdoor photos!! Thanks to Rod Sleeth for these photos and the many others he has contributed.
---
Sundown Chestnut Dec 10, 2010 - Dec 12, 2010
The first ski trip of the season is history. Friday morning a group of skiers met at 6:00 AM at the Jubilee Café to drive to Chestnut. After a large breakfast in Cordova, we arrived at the resort for a day of skiing. The temperature was 25 F and the skies were sunny. The snow conditions were great. They had 8" of snowfall early in the week and had been making it all week. Friday evening we met in the Holiday Inn's lounge for dinner and drinks as usual. A few people went out for dinner in downtown Dubuque and met back at the lounge. Saturday morning was way different than the previous day, with the temperature at 34 F and sprinkling. After our breakfast at the hotel we were off to Sundown. The rain did not stop so we went out skiing, to our surprise the snow was descent.
The rain finally stopped around noon and turned into hard snowfall. We all got soaked by the end of the day but we all had a good day of skiing. Joining us for the day were Randy and Paul Senneff, and Dianna Anelli. Sunday morning after breakfast it was off to Chestnut for those who did not ski there on Friday. The temperature was 19 F and the wind was blowing. Thanks to everyone for making this a fun time. Gene and Dixie Snyder; Curt, Lynn and Catrina Hollaway, Christina Clark; Julie and Bryan Brown; Linda Brown; Keith Erickson; John McCabe, Vickie and Tim Geiger; Elijah Sansom and Jinjae Kim; Denny Powers; Ron Love; Rod and Janet Sleeth.
---
Christmas Party 2010
Great food, good company, charitable gifts, and white elephant laughs. Enjoy the holidays and have a Blessed 2011.
A special Thanks to Maida and John Huber for 'hosting' the ski club Christmas Party at the East Peoria Boat Club.
---
PEORIA SKI CLUB P. O. BOX 3255 NORTH UNIVERSITY STATION PEORIA, IL 61612-3255